Flashforge and Voxelab FACTORY RETURN 3D Printers - BIG SAVINGS, please read the disclaimer below.
The items in this listing are Final Sales and non-returnable items
FULL DISCLOSURE - DISCLAIMER, all printers are sold "as is". These printers will not come with a warranty from the manufacturer or from Tinker Hive. In fact, these printers are not even guaranteed to work and they may be missing pieces.
These printers are Factory Returns, they have not been inspected and you are buying these at your own risk.
Perfect for those who want to tinker, feel comfortable repairing a 3D Printer, or if you're a beginner and you feel comfortable with tinkering. This is a great opportunity to get into 3D Printing without spending a ton of money on a new printer.
As stated above, these printers may arrive with missing parts, they may have scratches and dents or missing parts, or they may arrive in like new, near-mint and working condition. 
These Printers are FACTORY DIRECT RETURNS. YOU ARE BUYING AT YOUR OWN RISK, ALL SALES ARE FINAL!
Please make sure you have thought this through because once you've purchased the printer it is yours. No exceptions. No Returns. No Exchanges. No Cancellations.
We will provide you with Techincal Support and we can assist in helping you order the correct replacement parts from the manufacturer. 
If you prefer, we can also provide you with the Manufacturers contact information and you can reach out to them directly if you need to order parts or have any questions. 
ATTENTION***We do not know the reason for these returns. These are Buy at your own risk!. 
Customer Feedback - Updated 6-30-2022
The information below is information and feedback we've received from our customers who've purchased these machines (updated regularly)
4 Customers have reported their machines were received in like-new condition. Printers were: Aquila Series Printers
3 Customers reported their printers were in like-new condition, 2 reportedly worked fine, and 1 sounds like it needed a cooling fan replacement. These Printers were the Aquila C2, X2, and Aquila series printers.
1 Customer Reports his machine was crammed in the box, all parts were available, took longer than expected to assemble because parts were removed from the machine, after re-assembly calibration, and testing, the 3D Printer works Great. The printer was an Adventurer 4
2 Customers have reported their Printers required extensive repairs including screen replacement, stepper motor replacement, and heated bed replacements. Printers were Adventurer Series Printer, Finder 2.0.
1 Customer Reported that he had a faulty screen. The printer was the Foto series Printer.
1 Customer reported a faulty rail and bracket. He said he was able to remix a .stl file he found on Thingiverse and printed a new bracket. The Customer stated he had to order a new guide rail. The Printer involved was the Dreamer Series Printer.
1 Customer reported his printer was DOA, we assisted in working with the Manufacturer and it was determined the printer needed a new mainboard and new power supply. These parts are on order and we will update this once the parts are received and installed. The printer was an Adventurer 4
1 Customer reported his printer had a bad power supply. He reported having replaced the power supply with one he purchased off of Amazon and he said since then his printer has been working great. He said "it's the best deal he's ever had, he said he always wanted a Flash Forge and now he's using it to print ABS with. 
1 Customer reported back his Flash Forge Foto needed to have the FEP replaced. Since replacing it, his printer has been working great. The printer was the Proxima 6.0
1 Customer reported his unit Arrived with a BIG DENT in the enclosure. He said it was probably why it was returned but he also said the dent doesn't affect the printing of the machine and he's going to "slap some Bondo" where the dent is, sand, and paint the machine. The Printer was a FF Dreamer.
1 Customer reported her machine arrived with a missing Tension Belt and Roller Wheels which she was able to replace by purchasing the replacement parts from Amazon for around $14.00. She said her printer has been working great since then and mentioned "it was a great deal" The printer was an Aquila Series Printer.
1 Customer reported his Aquila arrived with a cracked LCD screen, he replaced it for under $20.00 and his printer works great.
1 Customer reported they purchased 2 proximas in case one was damaged so they could use 1 for parts. The customer reported having to replace the FEP on one of the machines and said the other machine need to have an internal fan replaced. Both machines are printing fine.
2 Customers reported the Foto 13.3 had a Damaged Door but nothing that would keep the printer from printing properly. He said he plans to take the door apart and he will add bondo to it, sand it and repaint the entire printer white. 
1 Customer who purchased an Adventurer 4 said the door was missing one of the brackets which hold it in place. He was able to create an easy fix and said he was extremely happy and the printer printed flawlessly.

1 Customer reported his Aquila was missing the glass plate that goes on the heat bed. Cost him $18 bucks on Amazon to replace and he is very happy!
1 customer reported he was disappointed his Aquila was received just thrown in the box. He reported he was able to put it together and he had to replace one stepper. The printer works well but he was upset at how it was packaged.
1 Customer reported his Foto 13.3 works great, said it was like new and he could hardly tell it was used and he thinks the person must have changed their mind?
3 Customers Reported their Proxima's work fine, of the 3, one needed a new FEP and LCD. We were able to obtain the parts at a discounted rate to help him and we offered him free shipping. Again these are the risks with these printers.
1 Customer reported her Dreamer arrived with some minor scuffs and scratches, she thought her printer was fine but then later realized after a series of troubleshooting the thermistor for the hotend needed to be replaced. She reported back that her printer works great.
1 Customer reported their Aquila Arrived with a damaged LCD Screen, they replaced the screen, and the printer prints fine. No other noticeable damages to the printer. It could have happened in shipping to the original customer.
1 Customer reported their Adventurer 4 arrived with the outside casing slightly dented in the corner. The print operation was not affected. The customer is not worried about fixing it. Printer works great
1 Customer reported their Proxima had a cracked housing. Since it didn't affect the printing he was just going to leave it as is. 
1 Customer reported their Finder 2.0 arrived in nearly new condition, she said it does this weird thing where the gantry resets itself during the print. I reached out to the Flash Forge Engineers and they recommended a firmware update. The customer updated the firmware and the printer works fine.
1 Customer reported their Adventurer 3 Pro arrived with a cracked hood and a non-heating bed. The customer paid more than he wanted to for parts but it still came out to be cheaper than it would have if he bought it new. He's happy but was hoping for a better printer. 
108 of our customers have not reported back any findings. Sometimes customers will report their findings later, and if they do we will deduct the balance from this number of customers and add their experience to the list.
1 Customer reported his feedback on his Flash Forge Foto 13.3 "I just would like to follow up with you regarding the flash forge foto 13.3 I purchased from your website (factory returned). The unit arrived and it looked almost new, everything included, the screen protector was still on it, so obviously never used before but the USB port was broken, I contacted flash forge directly to see if I can purchase a new USB board and replace the broken one, they were extremely helpful and told me they will mail me a USB board free of charge via DHL express, the new board arrived in about three boards, replaced the broken one and printed a test model perfectly with no issues. Overall great experience and totally worth it as it was extremely easy to get the replacement part and do it while saving tons of money on MSRP. Thank you and have a good day" This was copied and pasted directly from the email our customer wrote us. They requested to remain anonymous. 
Of this entire list of customers, 4 have reported they were moderately disappointed with their purchase and 1 reported what he received was unsatisfactory. We tried to offer assistance to all patrons and we clearly state the risk involved with buying these printers. Please, if this isn't for you then don't make the purchase, We try to provide you with as much detail as possible so you can make an informed decision. Ultimately even still NOTHING is guaranteed and it's clearly stated all over the listing. If you purchase one of these printers you are taking a risk and you assume all liability. If YOU HAVE QUESTIONS, PLEASE ASK.
We will continue to update our findings as they become available to us. If you have a question before making your purchase please reach us at info@tinkerhiv3.com, if you are on the Fence and you are uncertain please reach us and ask before you purchase. Remember ALL SALES ARE FINAL NO EXCEPTIONS NO RETURNS NO CANCELLATIONS OR EXCEPTIONS for Printers in this listing. We will always do our best to answer your questions with honesty and transparency. 

Flash Forge Finder 2.0 
Main features:
Small and silent: fully assembled, lightweight, and minimalist desktop 3D printer (build volume: 140*140*140 mm).
Quite printing at 50dB noise, carry out 3d printing in classroom and office freely.
3.5-inch color touchscreen: setup 3d printing operation easily.
FREE 3D slicer support: use our self-developed 3d slicing software FlashPrint to slice 3d designs for quick and better printing.
Open to PolarCloud & FlashCloud: save, share and download 3d designs, manage multiple 3d printers for remote 3d printing via cloud platforms.
Removable build plate: take off 3d prints easily without making any damage to 3d parts.
Print with multiple filament types: PLA, Wood, TPU 95. Fits Flashforge 0.5kg filament spools.
Filament detection: cease printing when the filament is interrupted or runs out, the printing process is recovered when the filament is refilled.

One spool of filament is included (250g);

Submit 3d printable files to machine freely: USB, WiFi, Cloud. 
Low energy consumption: operating power is 65W, machine auto-shutdown when print completed.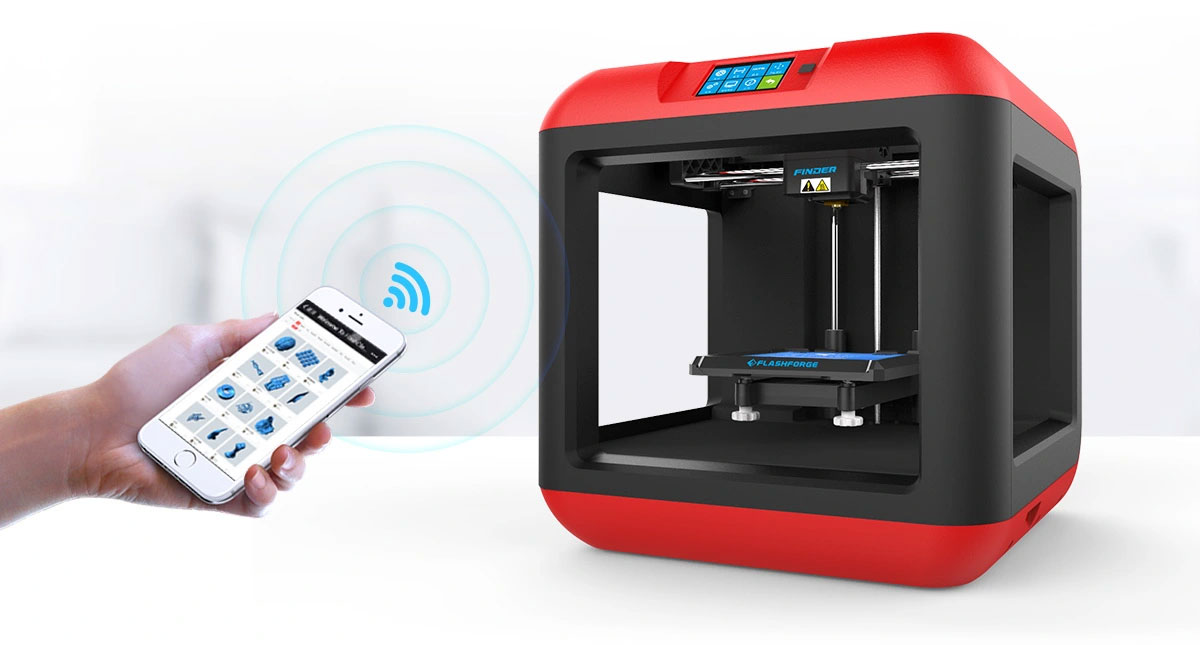 Flash Forge Adventurer 3 Pro
Main features:
A high match version of Adventurer 3, advanced 3d printing with 245℃ & 265℃ nozzle pack, filament detection, camera monitor, and glass build platform.

Out of the box: fully pre-assembled desktop 3d printer, unbox to print 3d models. 
245℃ & 265℃ nozzle bundle: printer equipped with a 245℃ nozzle, included a 265℃ nozzle as spare parts.
Fast-heating nozzle, heat to 200°C (392°F) within 60 seconds. The detachable design allows you to remove the nozzle from the extruder in one push.
Leveling free: build plate is well leveled in the factory. Unbox, and follow touchscreen prompts to start 3d printing. That's it!
Carbon silicon crystal glass build plate: ensures better flatness than flexible build plate, greatly minimal warping issues.
Filament auto-loading: enclosed spool holder, put filament end in, then trigger filament loading via the touchscreen for auto & smooth feeding.
Filament run-out detection: print stops when the filament is running out; resumes when the filament is refilled.
2.8-inch touchscreen: simplifies 3d print operation, and get an intuitive knowledge of machine operation status and printing progress.
Cloud printing: manage multiple 3d printers and storage 3d printable files on FlashCloud & PolarCloud. Save, share and download 3d files at any time.
FlashPrint slicing support: offers basic and advanced slicing options, meeting varied 3d model slicing requirements.
Remote monitor: built-in HD Camera allows you to remotely view the printing process online.
Super quiet printing: <45dB, ensures you a quiet and comfortable printing environment. 

Fits Flashforge 0.5kg filament spools, and supports PLA, ABS, PC, and PETG filament.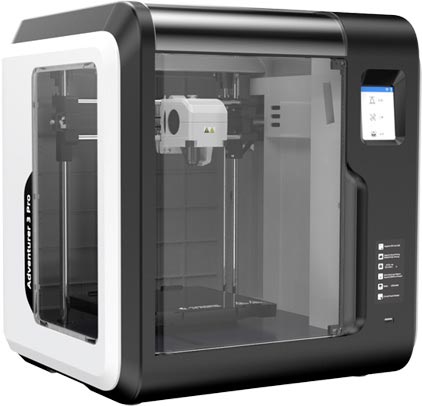 Flash Forge Adventurer 4
Main features:
Multiple nozzle extruder options: compatible with 0.3/0.4/0.6mm extruders, max temperature 240℃ & 265℃.
Quick-release nozzle design: patented buckle design, replace in 3 seconds.
Filament detection: auto-detects filament usage status, avoids filament waste, and ensures printing efficiency.
Magnetic flexible build platform: easy model removal within 5 seconds.
4.3-inch touchscreen: easy 3d print setup and control.
Resume printing: resume 3d printing from power failure.
Remote printing control by Wi-Fi or Ethernet.
Compatible with ABS, PLA, PC, PETG, PLA-CF, and PETG-CF materials.
Open slicing software: FlashPrint, Cura, Slic3r.
Cloud printing: manage 3d printers and printable files on a cloud platform freely.
Built-in-camera: remotely monitor and control 3d printing in Flashprint slicing software.
HEPA13 air filter: filters dust and odors effectively, healthy for indoor use.
Energy-saving mode: only 1KWH power consumption when standby overnight.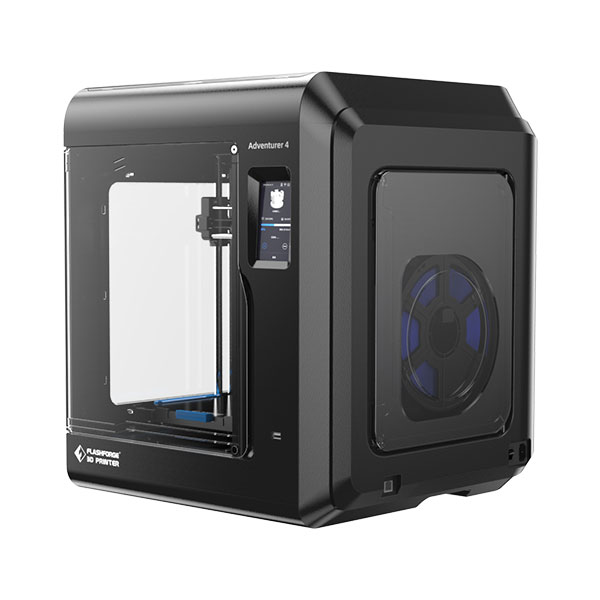 Flash Forge Creator Pro 2
Main features:
Large build volume: 200*148*150mm.
Simple bits of assembly for the quick start-up: set up and start printing within minutes after some small manual assembly.
Independent dual extruders: enable diverse 3d printing modes including Mirror Mode, Duplicate Mode, Dual Filament Printing Mode, and Dual Color Printing Mode.
3.5-inch touchscreen: set up dual extrusion FDM 3d printing accurately and quickly.
Anti-scrape design: ensures final 3d objects with clean neat smooth surface, extends build plate life span, and lower maintenance cost.
Open 3D slicer support: FlashPrint allows easy 3d slicing for quick and better printing. Other software apps, such as SolidWorks, and 3D Max, are supported.
Wide 3d printing materials: PLA, ABS, PETG, etc. Creator Pro 2 prints with water-soluble filament PVA, etc.
Support 2 spool filament plates in the back, more convenient for dual printing. For a quick 3d printing startup. 
Handle design for easy machine moving.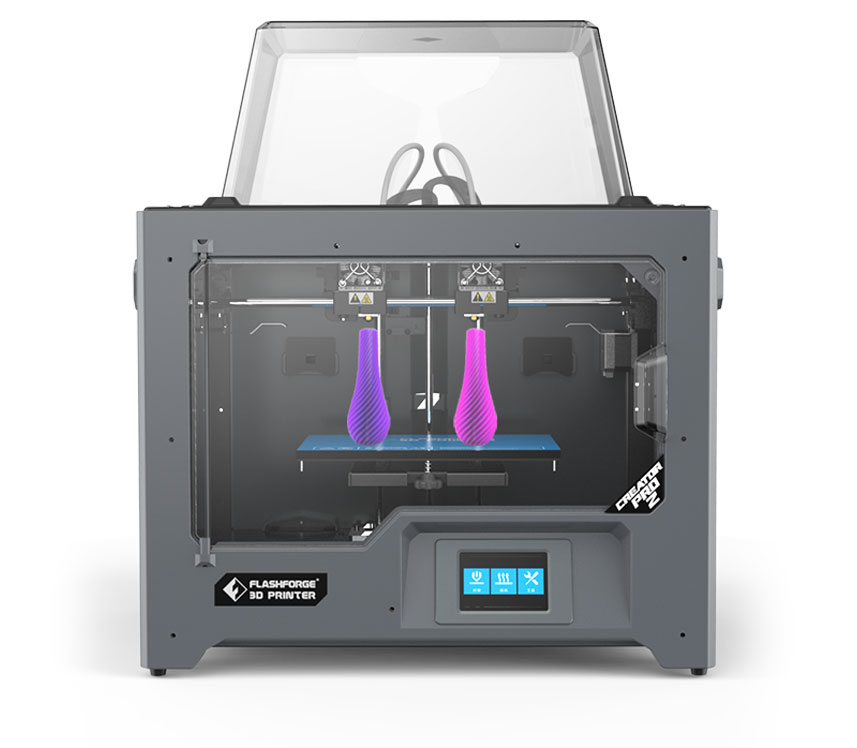 Voxelab Aquila C2
Flash Forge Dreamer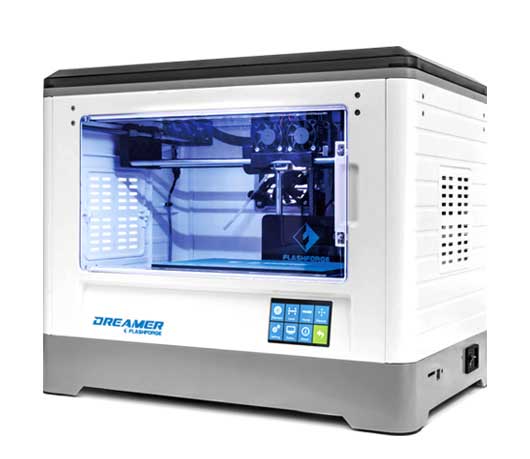 Flash Forge Foto 8.9
Features:
Large Build Volume - Build volume 192 x 120 x 200 MM, bringing industry designers and makers more possibilities.
Stable Framework - The Z-Axis is supported by dual linear rails, rod motor, and clearance nut combination which dramatically improves stability while in motion and reduces the layer shifting risk. Cooling device for stable printing performance and longer service life.
Fast Printing Speed - High quality 8.9 inches 4K industrial-grade monochrome and new matrix design for uniform UV light energy and deliver high-quality prints. The print speed is 50mm/h, making the printing speed 3 times faster than the color screen.
Better Print Experience - Resin includes basic resin and water washable resin. The material has good strength, easy to clean, and more detailed performance. Professional slicing software, easy to use, more functions, and smoother printing models.
Flash Forge Foto 13.3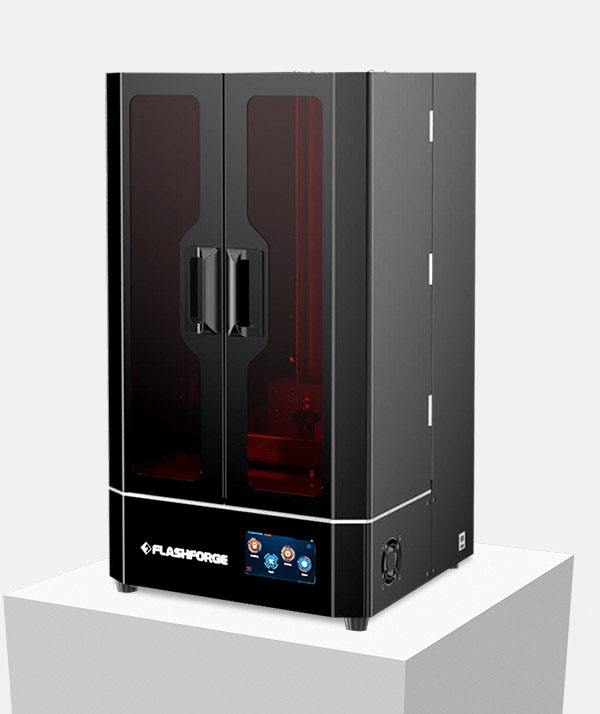 Main Features:
19L build volume: 292*165*400 mm. 4 times larger than that of other normal resin printers.
13.3-inch build plate: The number of models set on the build plate could double that of other large-size SLA printers, hence shortening printing time by half.
4 times faster on printing: 4K monochrome screen allows light transmits efficiently so as to remarkably shorten the print time for molding and exposure.
The lifespan of 4K LCD screen increases by 20%: high-efficiency cooling system improves print quality and elongates the service life of the LCD screen.
Easy to disassemble and replace the LCD screen: the screen is set as a whole modular, which could be replaced as a whole.
Eliminating print layers: the industrial-grade dual linear ball screw ensures stable and accurate movement of the motor on the Z-axis, eliminating print layers.
Free slicer software support: FlashDLPrint.
Voxelab Proxima 6.0 
Flash Forge Adventurer 3C
Main features:
Another stripped-down version of Adventurer 3, remaining the core features, perfect for beginners with a limited budget.

Out of the box: lightweight, minimalist desktop 3D printer. No leveling is required, unbox to print.
The detachable nozzle design allows easy maintenance.
Filament auto feeding: simply put the end of filament in for auto filament feeding. Smooth feeding ensures great printing results.
Free slicer and Cloud storage: slice 3d model files with FlashPrint – same functions & easier operation; Save, share and download 3d printable designs on FlashCloud platform freely.
Super quiet printing: <45 decibels noise level, get your hands on other things undisturbed when the printer is working. 
Supports PLA and ABS filament, bonus 50g filament for first testing.
Removable bendable build plate: take off 3d objects perfectly & easily.

30-days easy return, 12-month warranty, lifetime support.
Flash Forge Adventurer 3
Main features:
Out of the box: no need for assembly; lightweight and minimalist 3D printer (build volume: 150*150*150 mm).
Detachable nozzle & fast heating: remove the nozzle from the extruder in one push; Stainless steel tube material; Nozzle fast heated to 200°C in 50 seconds.
Filament auto feeding: filament set enclosed in the machine body; Put the end in and start auto feeding.
Filament run-out detection stops printing when filament runs out; Printing will resume when filament gets present.
Level-free 3d printer: follow what the screen interface instructs to start 3d printing; the build plate was well leveled accurately.
Built-in camera: records 3d printing process in real-time, allows you to monitor 3d printing status through FlashCloud or PolarCloud anywhere, anytime.
Cloud storage & online slicer: Share and download files on the cloud; Slice models and transmit sliced files to the 3D printer via Wifi connection.
Super quiet printing: < 45 decibels noise level.
One spool of filament is included (250g);
Filament compatibility: PLA/ABS. Fits 0.5kg filament spools.
Removable and flexible build plate: easier to remove printed objects.
Voxelab Aries
Main Features:
Out of the box: fully assembled, print within minutes after the package arrival.
Integrated solid design: dual Z-axis rails ensure steady movement, which eventually helps achieve better molding effects & outstanding print quality.
Carbon silicon crystal glass platform: glass bed heats up quickly and evenly, free-warping;
Print properties: build volume 200*200*200mm; print resolution ±0.2mm, meeting daily 3d printing requirements.
Ingenious touchscreen: command 3d printing machine within taps.
Auto filament loading/unloading: intelligent filament feeding technology ensures accurate filament loading, and increases the printing success rate.
Filament detection: the machine stops printing & notifies you on screen when filament runs out or is broken, and recovers printing when the issue is fixed.
Resume printing: preserve print progress from sudden power off, continue printing from the exact spot when power is back on.
Multiple data transmission options: WiFi, USB Stick.
Support commonly used filament types: PLA, ABS, PETG.
Compatible with VoxelMaker, Cura, and Simplify3D slicing software.
Built-in LED: expediently check printing progress and model status.
Friendly nozzle design: easy to remove, low maintenance cost.
Voxelab Aquila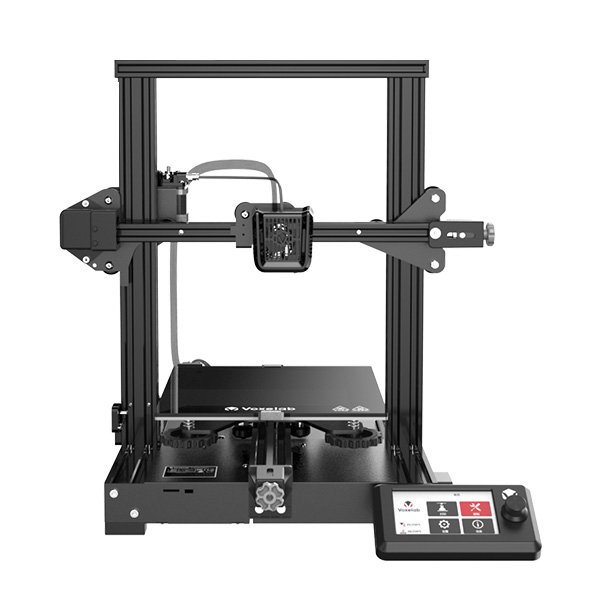 Main Features:
Mostly pre-built, enjoy the fun of assembling your own 3d printer.

Build volume 220*220*250mm, Max Print Speed 180mm/s, Print Resolution ±0.2 mm.

Carbon-crystal Silicon Glass Platform: print bed heated up in 5 minutes, quick molding without warpage.
The V-shaped pulley allows steady movement and ultra-silent 3d printing.
All-in-one tuner print 3d objects in an old-fashioned way.
Resume printing recovers the 3d printing process when power is back on, saves time, and reduces 3d filament waste.
Slicing software: Cura, Simplify3D, and VoxelMaker.
Bonus 50g random filament, compatible with PLA, ABS, and PETG filament.
Aquila H32 Eclipse compatible codes are now available on GitHub. You may custom modify your printer freely.
Voxelabe Aquila X2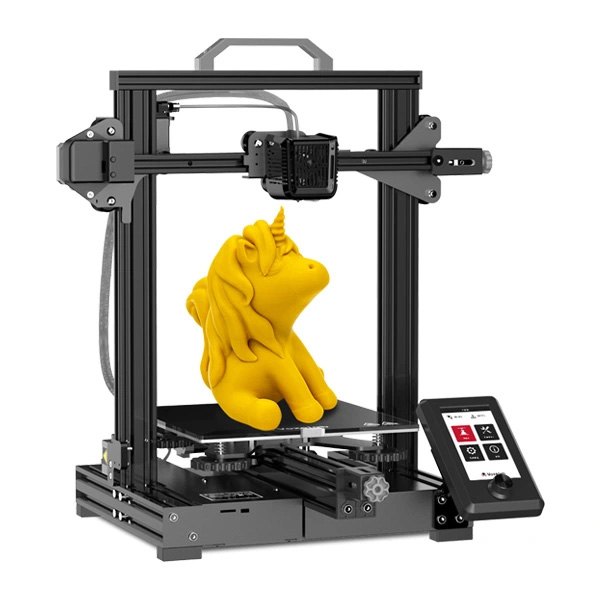 Main Features:
Components: 32-bit silent motherboard, silent stepper drivers make Aquila X2 operation whisper quiet.
Carborundum Glass Build Plate is ultra-flat, the bed isn't warped at all.
Printing volume: 220*220*250mm. A 3d printer with a great balance on build volume, print quality, and 3d printer price.
Filament detection sensor: detect and notify filament status during the printing process, guarantee successful print.
Filament auto feeding: Put in the filament end and it starts feeding automatically. The enhanced feeding module of Aquila ensures stable feeding (little breaking).
Resume printing: No worrying about accidental power off. Resumes print from where it stops when power is back on.
Aluminum body with sturdy structure, no shaking when printing.
4.3-inch color LCD screen, bright, easy to read, and user-friendly.
Cura / Prusa/ Simplify 3D / VoxelMaker software supported. Download the Aquila Cura configuration file.
PLA, ABS, PETG, and TPU filaments are supported. Try the best 3D printing experience with Voxelab PLA Pro Filament.
Aquila X2 official firmware has thermal protection, and BL touch support features. Download the latest firmware here.
For consistent Aquila X2 H32 printing with Octoprint, please upgrade to our official firmware V 5.1.8. You may download it here.
Aquila X2 H32 Eclipse compatible source codes are available on GitHub. You may custom modify your printer freely.
Flash Forge Guider 2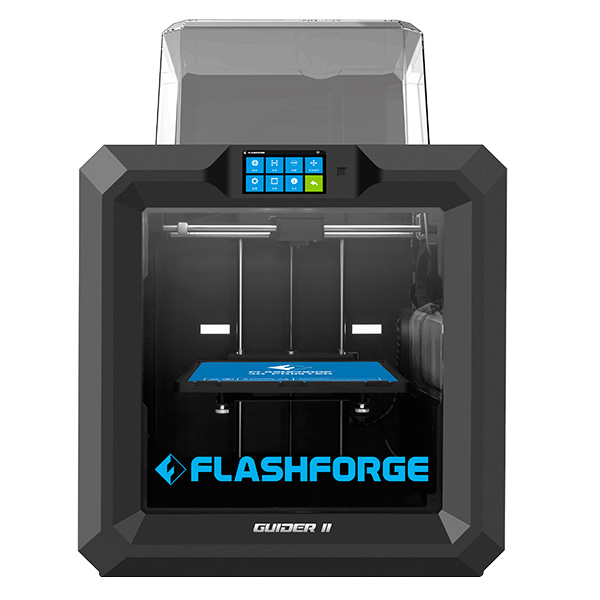 Flashforge Guider ii 3D printer features:
Out of the box: Flashforge Guider 2 is a full metal-frame, enclosed 3d printer with a massive build volume of 280*250*300mm.
Patent extruder heated up to 240℃ and heating platform up to 120℃: offers wide 3d print materials compatibility and great print results.
FREE slicer support: FlashPrint offers basic slicing features and advanced options for custom printing.
Resumes printing: print stops without damaging 3d models when suffering sudden power failure, resumes printing when power is back on.
Prints with mainstream 1.75mm filament: Flashforge Guider 2 supports PLA, ABS, PETG, Color-change, TPU, and TPE 3d printer materials.
Filament check: filament sensor detects material usage and notifies you when the filament is running out or broken, which greatly improves print efficiency.
5-inch touchscreen: visual 3d prints set up, simplifies operation, and ensure accuracy.
Wireless 3d printing & Cloud printing: supports 3d files transfer via USB cable, SD card, Wi-Fi, Ethernet, FlashCloud, and PolarCloud.
Awesome deal!
Printer came with everything, except a screw or two and came in great condition. Very happy with my purchase and printing great!
It works!!
It had a busted y axis sensor. $10 from Amazon for a new sensor and it works!!!
Aquila x2
Missing one part the heating glass cost $18 on Amazon for a new one. Prints and functions perfectly.