Creality CR-10 MAX 3D Printer Advantages

【Massive Printing Volume】Creality CR-10 MAX 3d printer printing size is 450*450*470mm, larger than CR-10 3D printer, super large molding size to meet diverse printing requirements

【Smooth Feeding】Creality CR-10 MAX 3d printer, bond tech gear extrusion structure designed, double drive gears for a strong thrust and high extrusion and feeding performance.

【Automatic Leveling】Creality CR-10 MAX 3d printer imported Bl Touch included for 16 points fast leveling, more friendly UI design.

【Two Power Supplies Added】Creality CR-10 MAX 3d printer, two power supplies with wide voltage: Two power supplies for motherboard and hotbed by way of two-way output, synchronous power supply for the quick response, and stable operation.

【More Stable Printing】 Creality CR-10 MAX 3d printer, golden triangle to reduce Z-axis vibration for high large-size printing precision; Y-axis double transmission belts and a double-axis motor with strong momentum for stable transmission and printing precision.

【Filament Sensor】Creality CR-10 MAX 3d printer, automatic suspension when materials run out, break up or run into other abnormalities for energy conservation and consumption reduction

【Imported Capricorn Bowden Teflon tube】Creality CR-10 MAX 3d printer, blue high-temperature resistant Capricorn Teflon tube without being easily blocked for smooth feeding and printing efficiency

【Resume Printing Function】Creality CR-10 MAX 3d printer automatically saves printing records and continues printing after power-on for a high model printing success rate.
This printer is perfect for printing "buckets", cos-play helmets, armor, and larger type prints.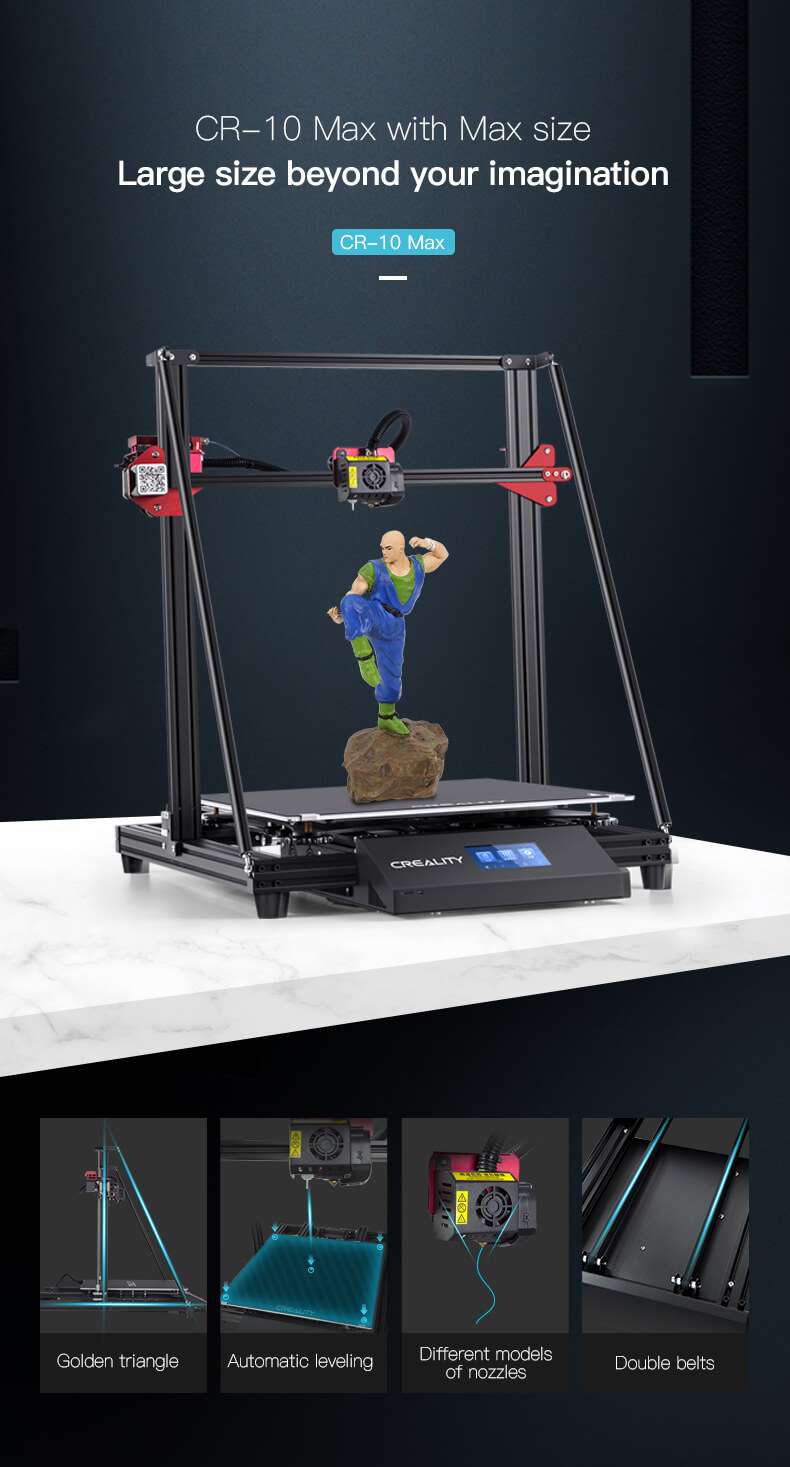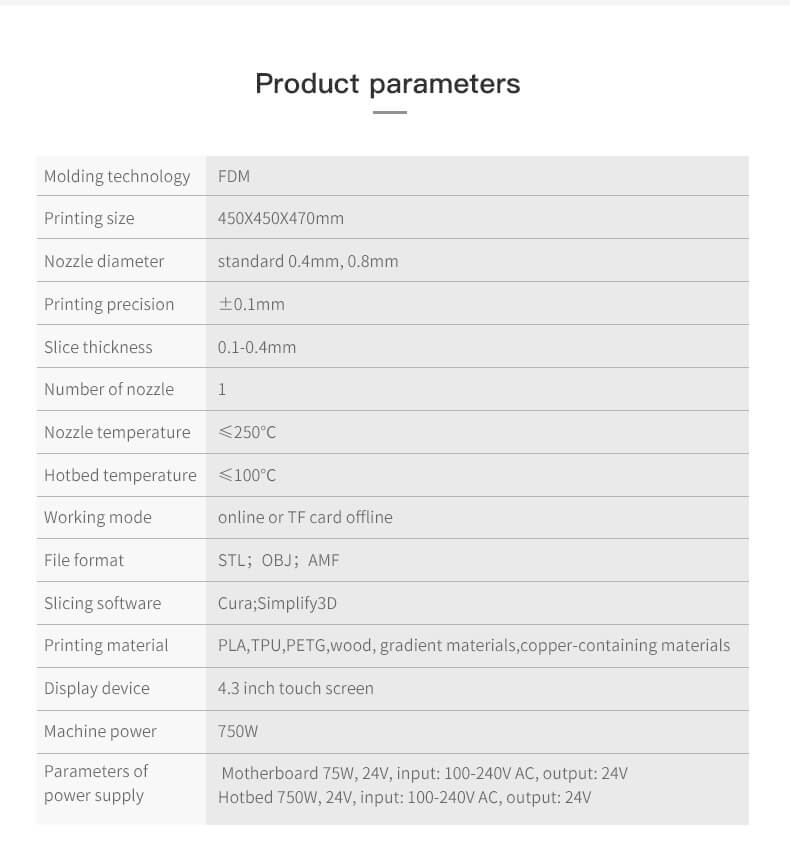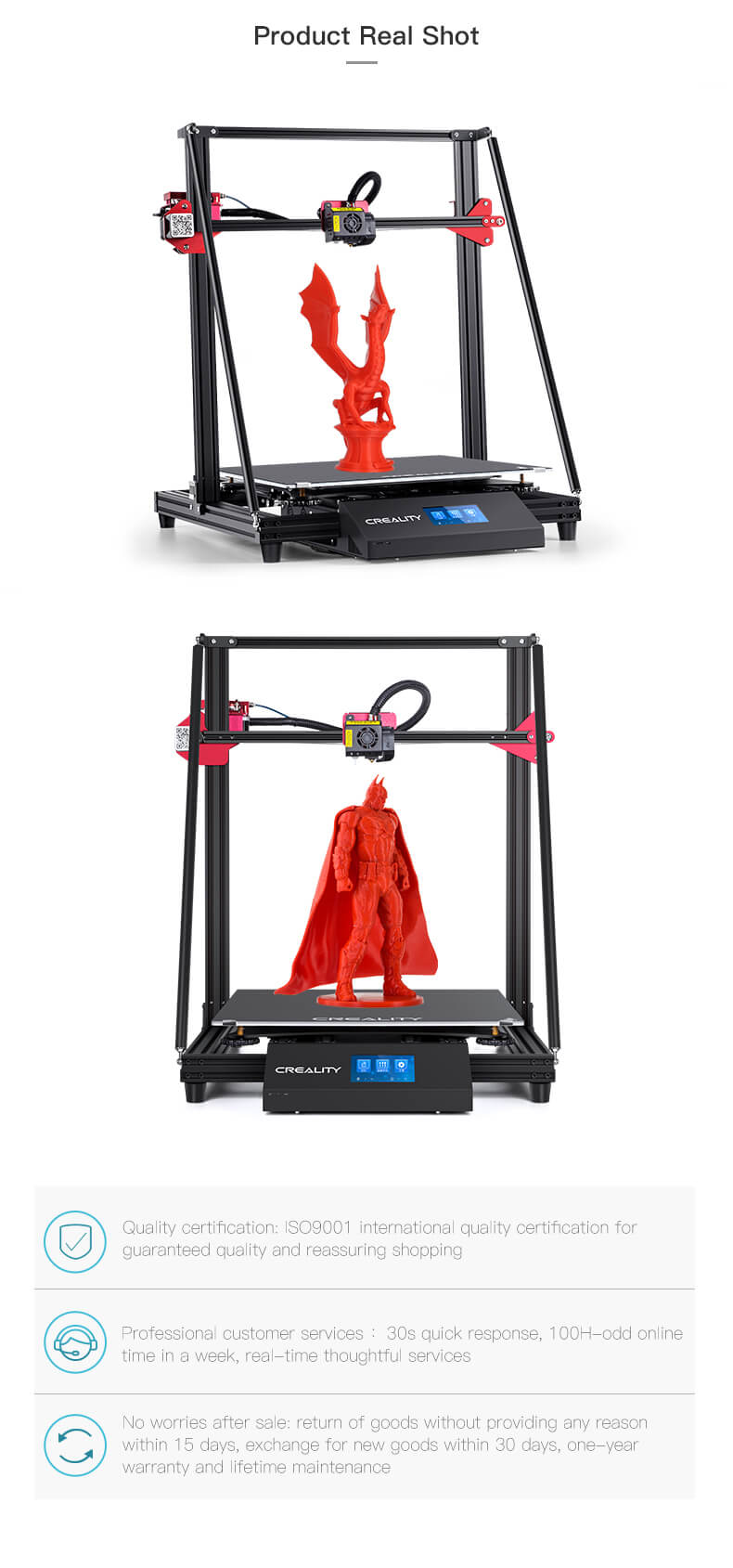 Brand Name: 

Creality

Model Number: 

CR-10 Max 3d Printer Large Printing Size

Origin: 

CN(Origin)

CE Certification: 

Yes

Consumables Diameter: 

1.75mm

Certification: 

CE

Printing Speed: 

80MM/S

Bed Temp: 

100℃

Slice Thickness: 

0.1-0.4mm

Language: 

English Chinese

Maximum Printing Speed: 

200MM/S

Interface Type: 

USB

Color Print Speed: 

60-100mm/s

Filament: 

PLA, ABS, TPU, Copper, Wood, Carbon Fiber, Gradient, etc.

Slice Software: 

FDM (Fused Deposition Modeling)

Power Supply: 

110-220V

Maximum Working Speed: 

180mm/s

Precision: 

±0.1mm

Voltage: 

110-220V

Operating System: 

Windows XP/Win7/Win8/Mac/Linux

File Format: 

PROE, Solid-works, UG, 3d Max, Rhino 3D design software, etc.

Nozzle Diameter: 

Standard 0.4mm

Diameter Temp: 

260℃

Auto Leveling: 

NO

Maximum Print Size: 

450*450*470

Molding Technology: 

FDM

Model: 

CREALITY 3D Large Print Size

3D Printers: 

CR-10 MAX Auto Leveling Resume Print

Woking Model: 

Auto Leveling Resume Print Touch-Screen

Features: 

Golden Triangle Auto Leveling Resume

Model: 

CR-10 Max 3d Printer Large Printing Size

Printing Method: 

Filament Detection Printer
*Note, the CR-10 Max is currently on backorder, and we are currently awaiting for our re-stock to arrive. The estimated arrival of our Inventory is April 12, 2022. Purchasing this printer now ships directly to you from China via FedEx IP, and the estimated arrival is approximately 14 days from the Date of Processing. If you have questions, please ask before making your purchase. 
**Note, Tinker Hive will provide you with a Tracking Number.